St Lucia - 2001
After walking away from a non-happening flat purchase we thought we deserved a nice holiday as compensation. There were many places on the cards but it was soon clear that the objective for the holiday was to take a dive course. There are obviously many places to dive but being early September, monsoons, hurricanes, and end of summer around the world, limited the numbers of suitable places down drastically. A Caribbean island seemed to be a very good idea, but which one? After speaking to
Malin's friend Eva, who has been around the Caribbean a fair bit, St Lucia stood out as being the best option, being hilly with a rain forest as well as beach and diving. So on an early Sunday morning we took a taxi down to Gatwick for an eight-hour flight in a big 737 to St Lucia. The plane doors opened and we walked down the steps into a gassing midday heat before getting into the slightly air-conditioned arrivals hall. Stamp in passports and a long wait for our bags. With a small map found in one of the tourist brochures in our lap we got we headed off
in a van for an hour and a half driving through huge banana plantations and rainforest. We stopped in front of a pink hotel with the name "Glencastle resort" written over the entrance. It did not seem to be big enough to be a "resort" but looked nice enough. Our room had two double beds and a balcony looking over looking Rodney Bay. The weather was very hot, and the air-con went on straightaway. Very soon we started to doze off as our body clocks told us it was about 10 pm but according to St Lucian time it was only 5 o'clock in the afternoon. With the help of
some local beer, called Piton after the famous twin mountains in the south of the island, and some American television we managed to keep awake long enough for the restaurant opened for dinner at 8 pm. After breakfast the following morning we met our rep, a local guy called Simon, who told us all we needed to know and a bit more about the island. At 9.30 we took the hotel minibus shuttle to Pigeon Island. The island is no longer an island as the causeway is now reclaimed land and a big Hiatt hotel has extended the sandy beach all the way around
the bay. Pigeon Island is now a very well kept national park with lots of well-trimmed greens. We strolled around for a while and ended up at the very tip of the island at a rocky beach and thought that we would take a bit of dip and use our new snorkelling equipment. Steve went in first and went snorkelling around for a bit whilst Malin was still standing on a stone in knee high waters. When returning to the shores to help, he looked in under the surface and said, "There are millions of colourful fish around your feet". Malin was out of the water in half a
second flat. Instead we walked back to the more populated beaches for a snorkel, which had sandy water but plenty of fish. Before lunch we climbed the two peaks getting a feel of Rodney bay from above and waving at Martinique. Just as we were returning to the main entrance to be picked up by the shuttle bus back to the hotel, the sky opened up and started bucketing down for about 10 minutes. After that it was all sunshine again. Our second morning we skipped breakfast and were hoping to find a nicer place down at Reduit Beach. Hiring of umbrellas and beach beds for EC$10. Just by the car park we found The Spinnakers Inn, which is a nice
beach restaurant open from early morning to late night, where we had some breakfast. 2 out of the three big 4 or 5 star hotels along the beach were closed due to low season, which made the beach very empty. After lunch we walked to the shopping centre, about 10 min on foot in blistering heat, to buy some breakfast and snacks. At three we got the shuttle back to the hotel and jumped in the swimming pool upstairs for a while. In the evening we joined Simon and Debbie from Southampton and took a taxi back down to Spinnakers Inn for dinner. For Wednesday we had booked to go on the Tout Bagay tour (Creole for "a little bit of everything"). A bus took
us down to Rodney Bay marina where a large catamaran was waiting. Even though the boat seems to be half full, there were more tourists there than we had seen up to now. With a slight breeze we were on our way down the coast of the island. Sunny and with a steady stream of fruit-punch we were told about all places of interest along the way. After about an hour and a half we pulled into Soufriere bay and got loaded on to a small armada of minibuses, which had been waiting for us. Our first stop was the Diamond waterfalls and the botanic gardens. Some photo
opportunities and 15 minutes later we back in the minibuses again for an equally short trip to the drive-in volcano and sulphur springs. We where taken for a short-guided tour among strong sulphur fumes, that smelled like rotten eggs, before we again got back in the bus again and off to the Morne Coubaril plantation. There we were taken around on a guided tour after which a nice lunch was served and then returning to the buses heading back down to the boat again. On the way back up along the coast we passed Marigot Bay for some photos shoots and stopped at Anse
Cochon for a bit of snorkelling. After 40 minutes we were called back and the boat, which took us back to Rodney, bay with more rum-punch and load soca music. Once on land we walked down to the shops to stock up on breakfast and a bit of food for the night. After all that see air what we had really hoped for was a nice quite night in with a bit of American telly. But it was all overshadowed by screaming karaoke from the bar. However, despite being annoyed, we both fell asleep before it finished. Thursday morning we took the bus down to
Reduit Beach. There we contacted a dive centre located on the beach to sign up for a Padi open water dive course, but they were very reluctant to tell us when they were running the courses. Only telling us that we could start sometime next week. As we thought that was a bit too late we phoned up some other dive companies in the island. On Friday morning, however, we had to take a taxi to Castries, the capital, to see a doctor as Steve had a suspected ear infection. The English doctor confirmed our fears and Steve got drugged up. We walked around in the capital for a bit before we took a bus to an area called Cicero in hope of finding the Dive Fair Helen
dive centre. Well, we got a nice trip around a suburb out of it but without finding anything that even remotely could have been a dive shop. However from Castries we took a bus to the Wyndham Morgan Hotel, where we knew they had an office. Once the course was organised we took the bus back to Rodney bay and our hotel. In the evening Andre dropped off our theory books at the hotel just before we headed off down to Rodney bay for some pizza at Capones restaurant, as it was Friday and we always have pizza on Fridays. The following morning we took our books with us down to Reduit Beach. Being a clouding morning we were sitting under
our umbrellas, unprotected, concentrating on buoyancy and how air changes in deeper water. At lunchtime Malin realised that she had burned her legs from reflection of the sea and we walked up to the shopping centre to get some Aloe Vera burn relief gel. Whilst all British tourists had cramped themselves into the Whiskers Inn to see England win a football match against Germany we took a taxi back to our hotel. Trying to study and cooling down the burnt areas with ice we spent the rest of the evening in the hotel. On Sunday morning we just hanged around at the top pool practising some of the exercises we knew we would have to do on our dive course in the pool using
our snorkelling equipment. By Monday we were so bored of hanging around the hotel we took the bus down to Rodney bay and walked back, before hitting the books again. Late afternoon we finally finished the books, just in time for Andre dropped off a video and all the Padi videos, whish we needed to watch, as well. But by that time our brains were full and we fell asleep looking at how to clear a mask or how to do a controlled emergency swimming ascent. Tuesday morning was our first real day on the course and we were picked up at 8 in the
morning. Taken down to Castries and on to the dive boat which was taking us down to Marigot Bay were we where set to do our final exams and our confined water dives. Our teacher for the day was Mark who patiently showed us all the equipment that we had only read about, and took us out in the bay for the first exercises. We had lunch at the famous Dolittle Restaurant (where they filmed part of the film Dr Dolittle) and then continued practising clearing masks and swapping air sources. At 4 we got out of the water for a short break before heading back in again for the final exercises. By five we were all very cold and tired and we showered off and the owner of the dive club, Andre, drove us back to our hotel. Wednesday was our first open water dives. We got another instructor, Lincoln, who went through the dives and the exercises we were about to do as the boat drew down the coast to Anse Chastanet.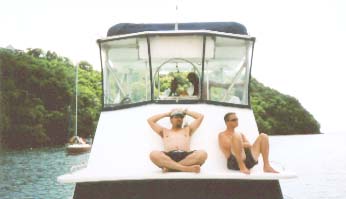 Despite being very nervous and scared we managed to clear our masks at 6 meters depth and swap air-sources. But after each set of exercises we were taken around the magnificent coral reefs. Lunch on the boat and more exercises at another location along the coast. In the evening we were so tired we just wanted to take it easy and an early night before our final day of exercises but the hotel had other plans, being another Kareoke night. This time even louder and it went on and on. At 11 we where well pissed off. Just before 12 we phoned up the reception to ask when they were going to stop but it continued until 20
past, and at that time we where so tired and angry that it was difficult to fall asleep. The next morning we were up early for our last day on our dive course, despite the late night. The day only had a navigation exercise the rest of the time Lincoln showed us different creatures in the reef. All went well and we passed. Well chuffed we invited Simon and Debbie to join us for a meal at a restaurant in Rodney Bay called the Roof garden. Nice food and nice company completed our day. We had decided to take a day off from diving on Friday and had a long sleep in the morning before walking to Pigeon Island. Snorkelled a bit in the relative cold water, checked our mail at the restaurants internet café and reading our novels
that had been put aside in favour of course material. As the sun went down we had a light dinner on the veranda of the restaurant overlooking the bay before taking a taxi back to our hotel. On Saturday we had planned to do our first independent dive so we got picked up at 8 am again. Got down to Wyndham hotel for more people. We dived with Andy and Angela, who we had met on our first open water day and a guide at the wreck just off Anse Cochon. In the wreck we saw a loggerhead turtle that swam around us for a fair 5 minutes. It was brilliant and we were all very excited. In the evening we were too tired to do anything special even though it wa
s our last night in St Lucia. Andre drew past quite late to drop of our Dive Fair Helen t-shirts. On Sunday morning we rushed up to the top pool to try to get a little bit more of suntan, before we walked down to the supermarket to buy the stuff we were bring back home. Packed and left the room to be picked up by the minibus at 1 for another hour and a half trip down to the airport. Said goodbye to St Lucia and walked up the stairs in the early evening sun to a freezing cold plane what was going to take us back to England.