For a third time we head towards Saas-fee in the southern Swiss Alps. This time we decided to catch a plane to
Geneva and use public transport up to the mountains. So, very early in the day at the end of November we caught a red eye flight from Luton allowing us to eat breakfast in Geneva. A well-organised airport later, we jumped on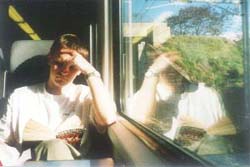 the train, leving on exact Swiss time, taking us the two and a half hours journey to Brig, where we caught the post bus up to Saas Fee. It was a joyful journey where we recognised and remembered earlier trips. At the village we dragged our heavy gear bags with smiles on our faces to the
hotel we had stayed all other times, situated in the middle of the village and of sufficient basic standard. Even though we were very tired after a more or less sleepless night we walked around the village to see what changes have
been made since we where last there, three years ago. The snow and the cold called for a gluhwien, and when hunger come
upon us we made it, in our tired haze, to one of the basic Swiss restaurants we had decided to celebrate our return at. Stuffed up on Rosti and bratwurst we nearly fell asleep on the way back, and were in bed and asleep way before 8 pm. The following morning,
Friday, we jumped out of bed for breakfast, piled on the nivea in our faces and headed off to the piste for the first time in two years, for Steve, or in three years, for Malin. Steve on snowboard and Malin on snow blades. The absence of skiing was well felt as we made our way down through the well pisted but a little bit wet slopes. After many hours of skiing/snowboarding
and a few hot chocolates we got down to finish the day off with a mug of Gluhwine. A hot shower and we were out again for a meal at a
new pizza place. After being wined and dined we were back in bed by half past 8. When we hit the piste on Saturday morning it was packed with Swiss weekend skiers and the few lifts that were open were packed with long queues. After a few runs we went back to our room to have lunch and swap the snow blades for snowboard. As Malin felt very rusty on
her snowboard, a few hours were spent down at the nursery slope to get the old feeling back. Then we headed up to the top again. We found n area that was good for practising and stayed there for a while. At the end of the day Malin got very tired and had planned to take a lift up to
the main lift station to take big gondola back down, but the lift had been closed well before the set time and the operators were unwilling to assist, so we had to try to make it all the way down to the village on shaking and
tired legs. Many angry thoughts and a few gluhwines later we headed out for our third night and this time we treated ourselves to an expensive hotplate dinner, where an extremely hot stone is put on the table, on
which you fry your own meat. This night we managed to stay awake until 9 pm. Sunday morning we where were surprised by the empty slopes but enjoyed a half day snowboarding. In the afternoon the slopes were heavy and cut up so
we relaxed on the balcony of our room reading instead. Even though we had only spent half the day on the slopes we were very tired and only managed to make it to the restaurant we eat the first night, which was
the closest one that was open. Many thoughts went through our minds; why did they charge full lift price even though only 6 lifts out of 20 were open? When is it high season in Saas Fee as we
had never been there when all shops and restaurants where open? How can a car free village be so busy with vehicles? Our last day skiing we headed out to nearly completely empty slopes riding the corduroy. After only
an hour our toes were frozen solid and we had to rescue ourselves in a mountain hut for hot chocolate. The snow was very hard and after a few bad tumbles injuring a shoulder Malin headed down the mountain on foot. The sun was gazing down into the village and we enjoyed a few hours sunbathing on our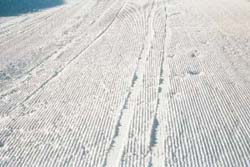 balcony. Over our last gluwhine, in one of the oldest restaurants in town, we debated whether we would come back to Saas-fee again and we agreed that we would possibly return to Saas-fee but only after trying out other resorts first. We both love Switzerland but Saas-fee had been well tested and other areas deserve a try.
Our last supper was consumed at one of the most expensive hotels Italian restaurants. The following morning we packed and took an electric taxi up to the post office for the post bus down to Brig and the train to Geneva. We thoroughly enjoyed the travelling by public transport
whish allowed both of us to see the view and relax, and we agreed that this made the holiday more holiday-like. Arriving early in Geneva we had a pizza at the train station restaurant and being back in the French speaking part of Switzerland, after five days in the German speaking part, we found it difficult to remember which language to communicate in. How the waiter made head from tail of what we ordered is still a mystery.