Cyprus - Summer 2000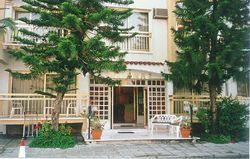 Being the new millennium we thought we should do something different. As up to then all our holidays together had been winter and skiing holidays, we thought we would be daring and try something different and go on a beach holiday. After recommendations from Nin and Nigel, who invited us up to their garden one sunny spring afternoon showing us pictures of their favourite holiday spot, we booked a last minute cheap package holiday to Cyprus. Leaving Gatwick in the late afternoon we arrived at Paphos airport in the middle of the night, and being a charter trip, it was off course two hours late. However, Cyprus greeted us with warm Mediterranean winds. At this stage we still had no idea where we would be staying but we were put on a bus that was headed to Limossol, which we later found out is in the middle of the island, to
be checked in at the Tasiana holiday apartments. The flat was very basic but clean, with a kitchen including a breakfast bar. The kitchen area was divided by a sliding door into something that was supposed to be a lounge with two huge blue plastic sofas. The lounge had big sliding glass doors that lead to a nice large balcony half a floor up. The bedroom was rather big with an on-suite basic bathroom. As we went to bed the sun was rising. After just a few hours sleep we woke up at 10 am and dressed in shorts and t-shirts we wandered into the hotel opposite where our holiday rep gave us an introduction talk about Cyprus. As we had no idea of where we were or anything about the Island it was all very informative and we decided to book a few of the organised activities. Being absolutely famished, we tried to retrace the the way we where driven to the apartments as we had seen the beach the night before, and eventually found the main road. At a patisserie we ate a late brunch of big fat croissants, applied some sun cream on our bleak skin and with hats on our heads we followed the road in a
direction we thought would be toward the town centre. After an hour we realised that it was far to hot to make any major exertions by foot at the heat of the day. We went back to our flat via a local shop stocking up on essentials like beer and cookies. Inhabited the balcony with a good book and a bottle of cold Cyprus beer and just relaxed. Once the sun had gone down and a cooler breeze was sweeping over the area, we dressed in long-sleeves and wandered back to the main road which had now completely changed atmosphere from a peaceful beach promenade to something resembling Las Vegas with large neon signs. We found a quaint restaurant called Kelma serving local food, which we thought, would be interesting. The food was delicious and after a bottle of local wine we strolled home amazed over our new experience. The following day we had booked to take a bus tour to the capital and at 10 to nine we where picked up by an air-conditioned bus with Nicosia as our destination. After spending about half an hour stopping at every hotel along the way, picking up fellow tourists, we arrived in Nicosia and the first stop was the culture centre where local handicraft techniques are kept alive and demonstrated. After fifteen minutes we were transported to the Archbishops palace and had a look at a museum of local religious icons and an absolutely beautiful church. Back to the bus, and into town where we were dropped off for a two-hour lunch break. We strolled the main street, which was filled with English high street shops. Had an ice cream, which will go down in history as the best soft ice cream ever, on our way to the wall. After the Turkish invasion some twenty years ago the capital was divided giving it a feeling of Berlin. We had a peak over to the Turkish side whilst being over seen by armed soldiers, then wandered off to Check Point Charlie II, for a coke with resident soldiers. And then strolled through the lunch empty streets back to the bus. Next stop was the mountain town off Lefkara, which was
remarkably colder, almost bearable. We had been told that the village was famous for its embroidered linen cloths but when we wanted to have a peaceful look around we were bombarded by local sales women. We found the situation difficult to handle so we hid in a local bar, drinking a nice cup of tea waiting for the bus to rescue us. A few hours bus drive later we were dropped off again at our hotel. A beer and a few cookies rounded off our informative second day. On the morning of our third day we thought we needed to do something about our non existing tans, and headed off to the hotel opposite to relax by the pool. Two boring hours later we left for an ice cream at the patisserie. On the way back we bought an airbed to play with in the pool to make the tanning a bit more fun. An hour and a half playing in the pool we went back to our balcony for some beer and cookies. That evening we had an Italian before plodding off to bed. On our fourth day we had hired a car,
which was delivered to us in the morning. We drove off into the Troodos mountains wearing little more than sandals and shorts where we then realised that even though it was baking hot by the sea, at this altitude trousers and jumper would be more appropriate. We were not properly dressed and we had to abandon our plan to trek up Mount Olympus and so we drove up instead. Took some pictures of what in the wintertime was a ski slope. With a map provided by the car hire company we headed off towards Kykkos monastery. Halfway there we stopped to admire the view and Malin, being a little tired after a restless night, fall asleep on the back seat for a few hours. Well alive again we continued our journey. Remembered that we were not appropriately dressed for entering a monastery we headed off along a road that according to our map would lead us to Polis. First the road was new
and wide, but as times went by the road became narrower and bumpier until there was no tarmac left and we where driving on a dirt track. Thinking that just around the corner the tarmac road will continue we drove for three hours, until we finally reached the North coast. By this time it was far to late to look around and we hurried home along the empty Cypriot motorways. Had some takeaway pizza and a bottle of wine in our kitchen laughing at our dirt track escapade.  After breakfast the following morning we sunbathed for a few hours before the sun became too hot.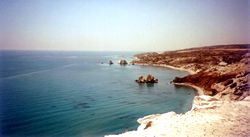 During the midday gaze we headed up to Pafos in our hire car. Stopped on the way for an ice cream admiring that we thing should be the Afrodites cliff. Noting is really that far on Cyprus so we so arrived in Pafos which is a much later built town and therefore much more tastier architecture than Limassol. Strolled along the promenade towards the old temple and on the way we noticed that they hired out small motorboats to a reasonable price and we jumped at the idea. A few moments later we where speeding off in the bay. It was great fun.
But as we where not allowed to drive outside the bay it soon became enough and the half an hour was gone. To chill down the experience we had a beer over looking the lively harbour. As the sun was going down we headed back towards Limassol and had a simple baguette and cheese dinner with local beer. The following day we headed off after breakfast to Fausori water Fun Park on the other side of Limassol. Steve had been to a similar thing in Florida as a child but thought that this one was quite good. Not a loot of people but a fair few rides we headed off to try how darey we where. It was quite windy so sun badeing was not quite an option but we had a really fun day and headed home at half past 4. Even though we had tried to be very careful and not burn ourselves once we got home we realised that we where still lobster like on certain part
of our bodies. We had a shower and headed off for another meal at the Italian restaurant. On our last day we packed up after breakfast and left our home for the last week.  As we where still a bit sun burned we had no plans to relax by the pool for the day so we took a taxi into town. Walked around for a while and stopped at a quite trendy bar for some milkshakes. When the waitress was bringing the shakes to our table she lost control of the tray and all the drinks ended up on top of Steve. We washed the t-shirt in their toilets but it was completely soaking and the bar owner, who was born in England by cypriotic parents and lived his youth in Richmond, lent Steve a t-shirt to wear for the day. We headed off for a
briefcase hunt. In Nicosia we had seen some really nice leather briefcases to remarkable good prices and it was decided that Malin could have one as an early birthday present. Just before all the shops closed for lunch we found one. We continued our walk towards the medieval museum, which was the only real tourist attraction in Limassol town. Entered a very old fort that had been converted to museum some 30 odd years ago only to realise that noting had been changed since then, with some of the signs had disappeared, but it did not really matter as it was all in Greek anyway. Had a good look at the artefacts without really know where or how old they where. Then hunger came upon us and we stopped at a small street café just outside the
museum for salad and toasted sandwich. Walked around the rather busy roads for being siesta and realised we had ended up at the other side of town and headed back to pick up Steve's t-shirt. As the sun was now cooling down we continued through town passed Woolworth massive shop and walked the whole way back to our hotel. By that time it was dark and a bit chillier and we changed in the toilets down stairs and headed off for our last meal in Cyprus. Went to a restaurant called Greecian, which we thought would serve Greek and local food only to realised it was more international cousin touching English.  But as we had found it difficult to find interesting restaurants the last few nights we stayed. The main street is full of restaurants and bars but they seem to tend to serve burgers or English fish and ship with the exception of some few "fancier" restaurants which we had tried all of the them. As we did not have much time before the bus was due to come and pick us up for the airport we had no time to head back to old Limassol for more cypriotic restaurants we just had to make do with was offered. At quarter to 11 we where picked up by the bus and driven back to Paphos airport. When we arrived there the airport was completely packed and queues well 30 meters from the entrance to the airport. It took us at least an hour and a half to queue ourselves to the checking desk. We where then informed that the plane would be 3 hours late due to a fog at Gatwick 4 days ago and it had to be diverted to Stansted and it was still trying to catch up.  During our waiting we over heard some reps talking saying that one of them had been in Cyprus last season and during that time only 3 plans had been on time. First the departure lounge was so full it was seats for every one, but as the other planes left to Scotland and Manchester we all had space to stretch out for a few hours slumber in the cold air-conditioned airport before our plane turned up three and a half hour late. After a very cramped journey we arrived in England in time to be caught in the morning traffic on the M25.  On the way home we summed up the trip as being good when it comes to Cyprus. We where surprised over the friendliness and hospitality given to us by the islanders and would love to go back, but the flight was dreadful and we would be very careful of flying charter flights again.